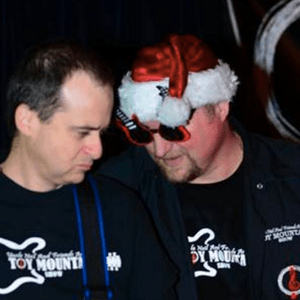 Two Left Feet is an acoustic guitar duo featuring Neil Haden and Mark Caruana. During their appearance they played:
Thank You – Led Zeppelin
I've Just Seen A Face – The Beatles
My Life – Billy Joel
Won't Get Fooled Again – The Who
Neil Haden is founder of the Uncle Neil and Friends Toy Drive. Mark Caruana is a high school teacher in Toronto.
Neil shared stories about meeting Jeff Healey and Rik Emmett and his wildly popular annual Toy Drive.
Mark shared stories about repairing guitars for RUSH and his one of a kind phonograph collection.
Join Neil and Mark on December 11th at The Birchmount in Toronto.
Enjoy!
Music by Afraaz Mulji.
Produced by James Khan and Adam Deacon.

Listen below:
Girth Radio
MixCloud
iTunes
Google Play Music
Stitcher
TuneIn
Pocket Casts
You can also subscribe to the podcast via RSS Feed if you're so inclined.