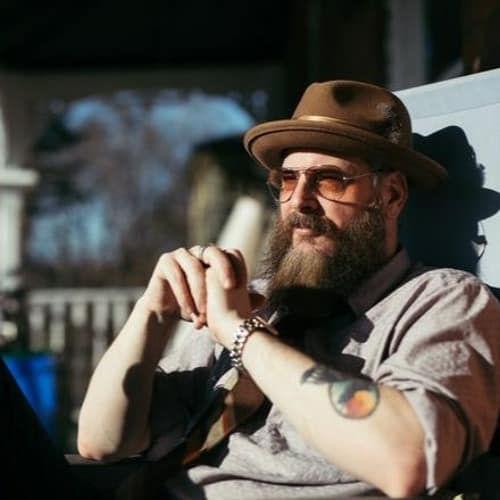 With time on his hands during the pandemic lockdown, roots music troubadour Ken Tizzard decided to create a new album comprising the fresh versions of cover songs he had worked up on his solo shows over the past decade.
Tizzard explains that "initially I told my fans that I was going to record all these cover tunes I've been playing at Whiskey Wednesday [his popular weekly residency at a pub in Campbellford, Ontario for 10 years. It was to be just me and my acoustic guitar, a way to give them some new music."
"When I let the news out, people started responding – 'hey, if there's anything I can do to help?,'" Ken recalls. "Then the idea just hit me. Make it an open call to everybody. That was my next Facebook post, inviting anybody who wanted to be involved. 'If you have any way to record and if you like any of these songs, email me and we'll talk about what you can do.'
The response just snowballed!"
Tizzard posted a list of the 13 songs he had in mind for the record, and then, he explains, "I started putting the puzzle together. I got a big sheet of paper, listing the songs, the guests, what instruments they played, and started assembling it."
The novel creative process involved Ken recording a rough demo of each tune, vocal and acoustic guitar only, and sending that out to the volunteering musical guests, giving them complete freedom for the parts they would send in. "There were only a couple of instances where I went back and asked the player for a change," he notes. "That is remarkable given that everybody played without hearing what the other guests played."
The resulting collection of songs that is All Together Now is both varied and fresh. Many of the chosen tunes date back to the '80s, the decade in which Ken came of age, with classic songs by Tears For Fears, The Boomtown Rats, The Clash, The Cure, Billy Bragg, and R.E.M. making the cut.
He goes further back for gems by Neil Young, George Jones, Tom Petty, Van Morrison, Bob Dylan, and John Lennon, while "Green Mountains Ann Me" by Americana fave Slaid Cleaves is the most contemporary tune. Tackling Dylan's "Don't Think Twice" was a no-brainer, as Ken explains "Dylan has been with me since I started listening to music. He has been a high influence on myself and so many people it only seemed right."
The formidable cast list of collaborators on All Together Now includes some leading lights of Canadian rock and roots music. As the propulsive bassist in Canrock favourites The Watchmen and Thornley over the past three decades, Ken Tizzard has earned major peer respect in that world, while the prolific roots-based solo career he has pursued over the past 15 years has brought similar esteem in the folk community.
Danny Greaves (The Watchmen), Donald Williams (Big Wreck), Dave Gunning, Sandy Morris (The Wonderful Grand Band), Creighton Doane, and Sean Panting. Also contributing were Tizzard fans in Canada and the US that he has yet to meet in person.
Adding invaluable assistance on the mixing side was Mike Turner (Our Lady Peace), with the renowned Noah Mintz mastering. "Mike and I had a massive task assembling everything," says Ken. "It'd be like 'we've got a flute, a fiddle, a harmonica, guitar, slide guitar and piano playing on the one song. How do we make it work?' Mike did an amazing job."
Ken acknowledges that the presence of his musical friends on All Together Now means this doesn't sound like a regular Ken Tizzard solo album. "The essence of these songs, the way they are, comes from everybody else, not from me," he observes.
He remains justifiably proud of both the musical results and the imaginative creative process. "For this record, I had to put professional expectations away and accept it as a fantastic social experiment that produced some really good music in a time when people needed a chance to do that."
(Press Release)